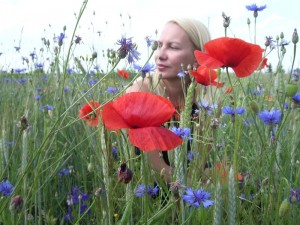 My name is Gintarė Davainienė. I simply realized one day that I no longer wanted to "float downstream", and decided to change my life to the core. I discovered my true nature and resolved to live it out. I came to understand what the purpose of my life was and started to take decisive steps toward it. I believe in the unlimited power of my thoughts and have enough courage to set increasingly important goals for myself, to reach out for dreams that are greater and greater still. I have stopped dreaming only about material possessions and have started to think about the purpose of my life, to search for its one great goal and for answers to the most crucial questions: What do I really want? What am I really capable of? What is my mission in this world? Have I fully realized my potential as an individual and a human being? Am I happy when it comes to my career or my family life? On the whole, am I happy?
It is said that, if a person reaches middle age without having found the answers to these questions, or has no intention to start searching for them, he or she is going to experience all the major crises that life can bring. These crises can occur in any sphere of one's life; for instance, they could be related to one's health, one's financial stability, one's career or one's family affairs. They can happen at separate intervals of time, but they can also begin at once. Even if you are a wealthy business executive, a crisis of that sort will be inevitable if your spiritual potential has not been realized. Happiness is only possible to attain once you are in a state of harmony with the rest of the world and abide by the laws of the Universe.
This was definitely true for me. When I was around thirty-eight, life was screaming at me, telling me I had not yet learned my lessons. The crisis spanned all the areas of my life. I was on the brink of divorce; I was dissatisfied with my position in the family, and my job brought me no sense of fulfillment either. I worked a lot, but this did not make me any happier. There seemed to be an overwhelming lack of creativity, of a greater, more global meaning, of opportunities for self-realization. I felt like a machine for making money.
I had serious health issues. The illnesses I was suffering from had all but completely worn me out. Now that I can look back on that time with a sense of humor, I sometimes joke that I was diagnosed with "almost stomach cancer" and "almost spinal hernia". Major depression was another problem I was all too familiar with. One morning I almost died from anaphylactic (allergic) shock. I was very unwell, took heaps of chemical drugs and felt irritable and unhappy.
As I searched for the cause of my failures and my frail health, I realized that the most destructive influence of all had been that of my own negative thoughts, feelings, words and actions. After this revelation, all I could do was to try and transform them into positive ones. I knew I had to change urgently and radically, and I have succeeded in doing so.
I am still alive, though doctors used to predict otherwise; not only that, but I am also healthy! All my health issues have disappeared. I was able to recover owing to my willpower, my stubbornness and the quest for my true inner self. I no longer take any synthetic medicine. I lead a healthy, quiet lifestyle and dedicate a lot of time to activities that are meaningful and fulfilling. I exercise a lot and go for walks outdoors whenever I can. I do my best to observe a healthy diet and to think positive. So far, I have been managing perfectly. I love life and enjoy every single moment of it! And, at long last, I have started to realize my full potential! I have a creative job I love, which is helping me satisfy my desire to contribute to the greater well-being of humankind.
The knowledge I obtained during this period of healing and searching for my true self proved to be invaluable. I realized that I want to share it with those who may have made the same mistakes as I did, and with those who, like myself, may be searching for answers to the most crucial eternal questions. I no longer want my life to belong only to myself. I have grown tired of being selfish, of catering to my own needs and interests, of dreaming exclusively about my own well-being. I have come to understand that my mission is to spread this knowledge among others and help them develop the same sense of self-confidence. My enthusiasm and joy know no bounds, and I long to share them with others. I love life and enjoy every moment of it, and I am infinitely grateful to be the person that I am today.
I have long dreamed to do something valuable, something that could make others' lives better, healthier, more meaningful, more self-aware, encourage them to follow their dreams and aspirations. As of late, this dream has become the focus of my whole life. To my friends and family, I have become a real "Dream Counsellor". It was they who encouraged me to open up and start telling other people about my personal journey toward my dreams, to share my knowledge and personal experience.
I never put blind faith into any instructions, teachings or theories. Neither do I advocate any specific teaching or school of thought. Everything you will hear during my seminars has been tested and validated through practice, either by myself or by my loved ones. I know which methods do or do not work. I know where one may make mistakes, what obstacles or difficulties one may encounter or how to deal with them. I am well aware how much time, will and patience one may require. It is a long, complex and arduous exercise in self-improvement that demands much effort and much responsibility. But then, it is self-improvement that is the most vital; it is the most useful and valuable investment, because one is investing into one's own self. Believe me, this does pay off!
I am a beginning lecturer. It is a dream of mine that is already coming true. I have read numerous lectures for different groups of women, as well as motivational seminars for entrepreneurs and lectures at secondary schools intended for children and teenagers. I conduct long-distance classes on the art of dreaming via Skype for several groups of women in Russia. My greatest joy and achievement is the ever-increasing number of happy people, who are thankful for the inspiration that helps them pursue their goals.
I sincerely believe in my dreams and in the fact that they do come true. I would like to invite you to believe in the same. If I could do this, so can you!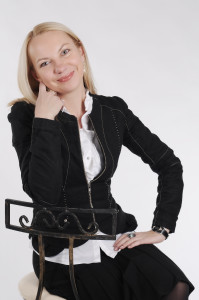 Some facts about me:
In 1993 I graduated Vilnius University with a degree in Economics.
Since 1991 I spent 18 years working as the commercial director of the jewelry business. I have extensive experience in the international jewelry business and have participated in several international exhibitions.
Since 2003, for six years I owned and headed the Chinese restaurant "Bambukas". Since 2009, for one year I owned and headed the vegetarian restaurant "Žaliasis Bambukas". I was the director of UAB "Žaliasis bambukas".
Since 2009 I'm managing the self-development club "Žaliasis bambukas" www.zaliasisbambukas.lt  I am glad to help other people get to know their true nature and to transcend their present-day selves. If I am unable to do so myself, I invite those who can. At the "Žaliasis bambukas" club people can hear variety of speakers addressing different topics, including human psychology, spirituality or healthy diets and lifestyles.
Since 2010 I'm working as a lecturer.
I'm a certified specialist in NLP (Neurolinguistic Programming).
I'm a certified meditator and specialist in "Theta Healing®" and "Reiki" practitioner.
Since 2015 I am studying Gestalt therapy in "Vilnius Gestalt Institute"
Since 2010 I'm advising people individually. I provide counselling on issues connected to personal motivation, conscious thought control and goal achievement.
I'm a writer. In July of 2013 in USA was published my first book about conscious dreaming titled "Attract Your Dreams". My pseudonym – Amber Dayva. Publishing house "Trafford Publishing". In December of 2015 in Lithuania was published my book "SVAJONĘ PAVERSK TIKROVE". Publishing house "Alma Littera".
The book "Attract Your Dreams" you can find in  www.amazon.com or www.barnesandnoble.com online bookstores.